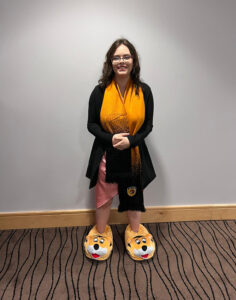 OLG were proud to be Matchday Sponsors at Hull City's recent game against Coventry City. Unfortunately, an early goal by Matt Godden condemned Hull City to a 1-0 defeat against Coventry City at the MKM Stadium on Saturday 30th November, although that didn't stop some of OLG's team members celebrations.
Just a few of OLG employees who got involved in the day were four of OLG Engineering's apprentices; James Raynor, Theresa McCann, Dominic Cartwright and Michael Brown.
18 year old Theresa, who is currently in her third year of a Civil Apprenticeship proved to be a good sport for day after donning a pair of Hull City slippers in place of her rather high heels – something that both her team members and Hull City thought for Health and Safety reasons was safer all round!